BN Foot Peel
BENEFITS
Improve foot health & reduce odour.
SOLUTION FOR
Removes hard, dead, smelly, and itchy skin on the feet.
1 PAIR BOOTIE PACK
Each containing 35ml of foot exfoliating gel.
Look down and be honest: Your feet could probably use a little extra love, right? That's where the best foot peel mask comes in - BN Soft Feet.
BN Soft Feet is a simple treatment that removes dead skin cells and leaves you with soft, smooth, moisturised feet. It enables you to care for and maintain your feet in the convenience of your own home.
Our foot peel mask contains natural extracts and citric acid, which are very gentle on your skin to exfoliate and nourish your skin simultaneously.
BN Soft Feet Foot peel mask penetrates your layers of dead skin and allows it to peel away over the following weeks of use. This process is gentle and very effective for your skin.
By unbinding the dead skin, the peeling process will begin, and you will see your layers of dead skin gently peel away.
Whether you're hoping to achieve smooth skin as quickly as possible or heal cracked feet worn down, BN Soft Feet is the answer. Say goodbye to rough, dry and cracked soles!
Soak your feet in warm water.
Place each foot into a bootie.
Tape up the booties and leave them on for 1 hour.
Wash your feet gently with soap and water.
Do not use the product if you have known allergies to citric acid.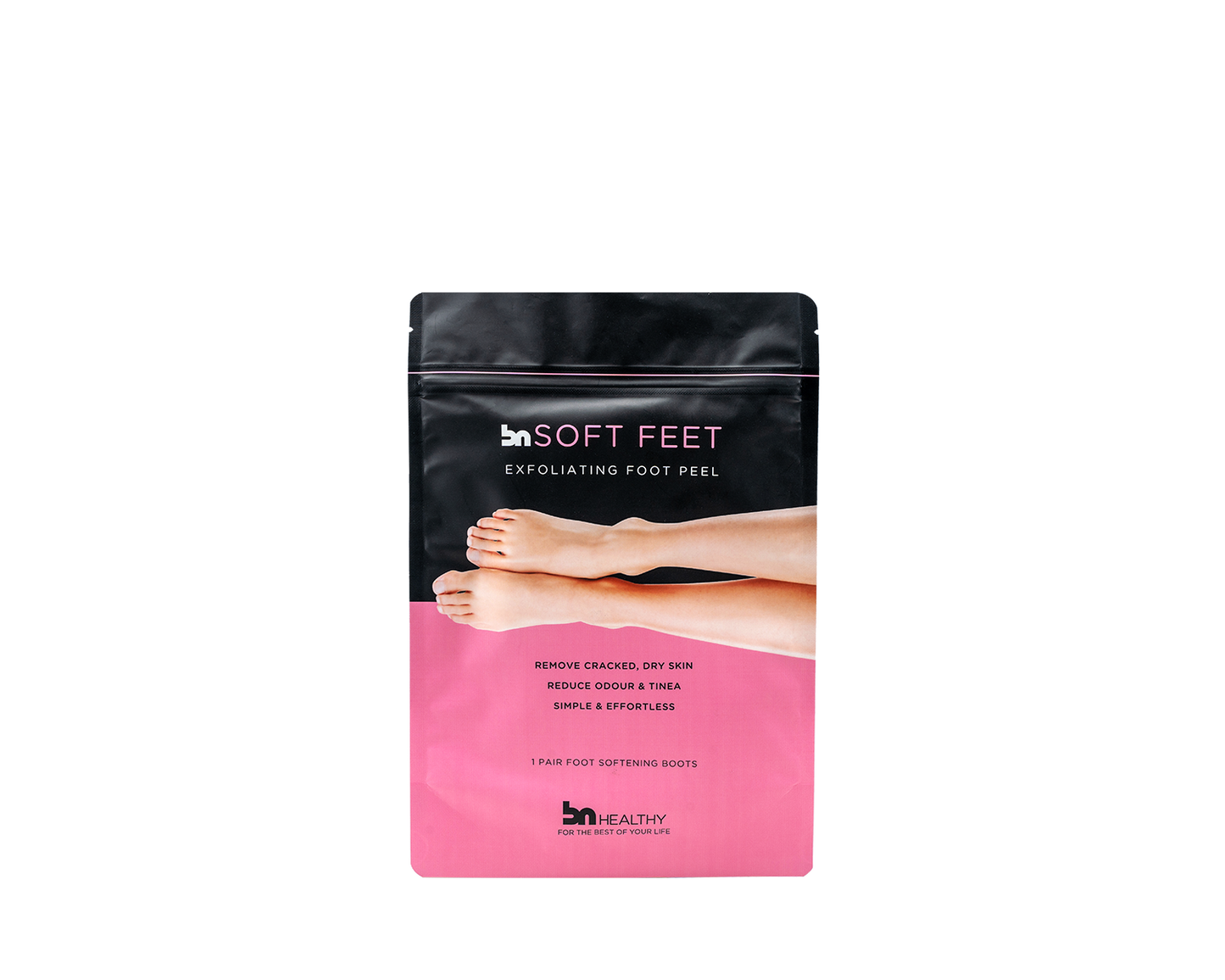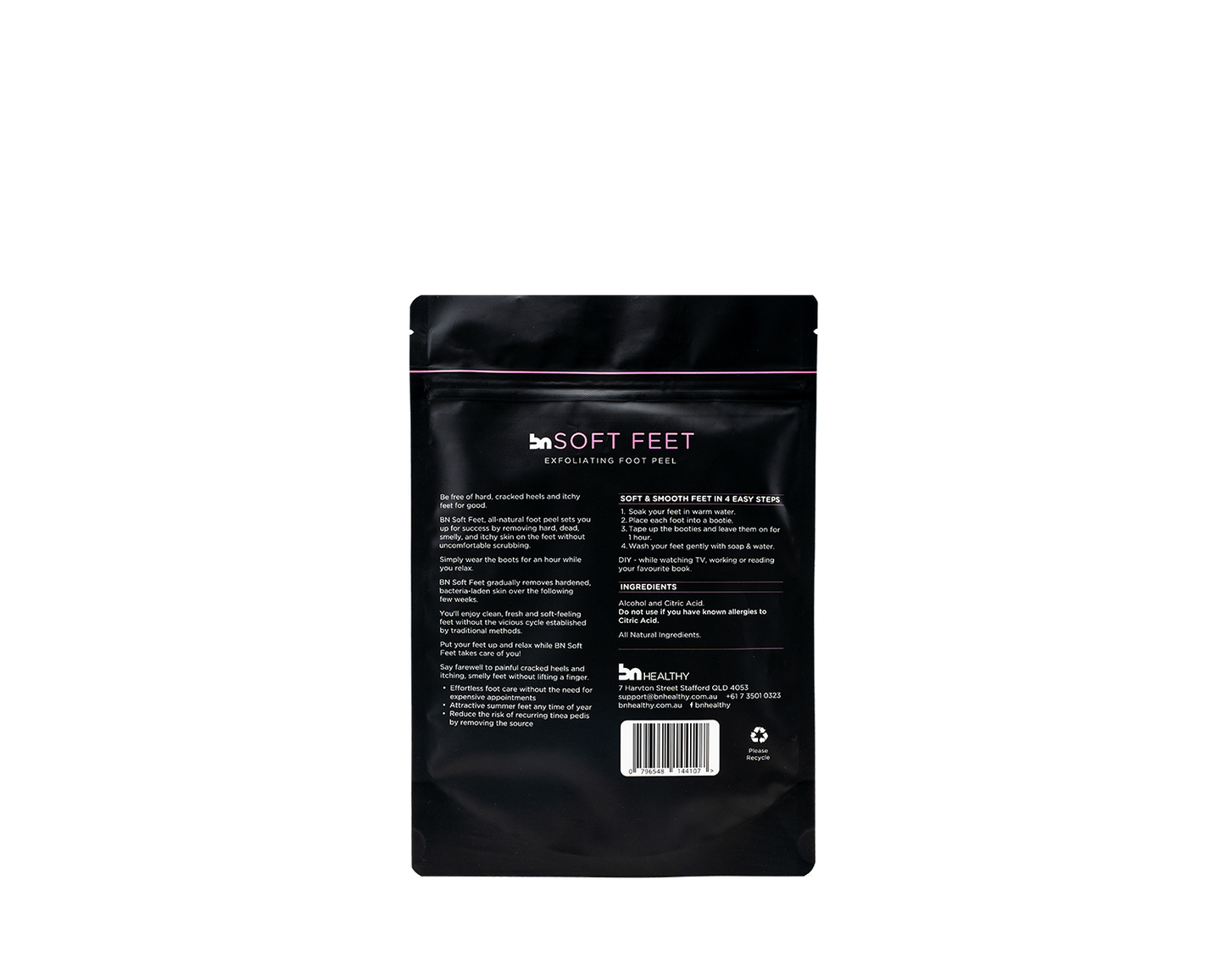 Carefully formulated to target your concerns.
Treat & Prevent Painful Cracked Skin on Your Feet
When dead skin builds up on your feet and heels, it makes your skin more prone to cracking. This can be painful, and you may become infected. Using a foot peel mask will remove all layers of dead skin cells without all the scrubbing, cutting and expensive podiatry appointments.
Make Your Feet Feel Soft & Beautiful
If you feel self-conscious about how your feet look, a foot peel mask will remove the dead skin on your feet. Then you are left with smooth, healthy feet that you can proudly show off.
Keep Your Feet Healthy
When dead skin is allowed to accumulate, it is typical to develop painful calluses. Your feet work so hard they need regular attention. Using an exfoliating foot peel mask reduces the risk of recurring tinea and bacterial build-up and keeps your feet healthy - all while you watch your favourite TV show!
Frequently Asked Questions
Our Qualified Nutritionists are here to help you make the best choice when it comes to you and your health.
It's best and safest to lie down or stay seated for the 1 hour of treatment. If you need to walk around, we suggest placing a pair of socks over your boots to prevent falls while your BN Soft Feet does its work.
Only 1 hour of application is necessary. It may take a few days for the peeling to begin, so don't worry if it looks like nothing is happening; we can assure you the peeling is definitely close!
Results may vary between individuals.
Yes, remove the BN Soft Feet after 1 hour, then wash your feet thoroughly. Once the peeling occurs, the process is activated each time you shower, so you'll notice more peeling directly after a bath or shower.
BN Soft Feet is widely used by people who experience dry and rough skin on their soles, heels and toes. This is the result of old, dead skin cells. However, if you have cuts and cracks, the gel may cause stinging.
We recommend doing a patch test first.
100%
of reviewers would recommend this product to a friend