BN Chews Orange + Vanilla & Lime
180 Orange Chewables & 180 Vanilla Lime Chewables
SOLUTION FOR
General health and well-being and metabolic rate
REMEMBER
Always read the label and use only as directed
includes:

Chewable Multivitamins
BN Chews Vanilla & Lime - Chewable Multivitamins
Learn more
Chewable Multivitamins
BN Chews Orange - Chewable Multivitamins
Learn more
FREE shipping Australia wide on orders over $80.
Same-day shipping for all orders placed before 2pm on weekdays.
We know you're busy, and some days it's hard to fit everything in - including your daily nutrients to keep you firing on all cylinders.
We also know you like a bit of VARIETY!
So we've bundled two taste sensations together so you can mix and match your multis!
BN Chews are easy-to-take, tasty multivitamins, containing Vitamins B12 and Iron and other key nutrients such as Calcium and Vitamin D.
BN Chews may maintain healthy levels of these nutrients when taken as directed.
Trust that our great-tasting chewable multivitamins will support your nutritional needs when your dietary intake is inadequate, or demands are elevated.
With 27 essential vitamins and minerals supporting
General health and wellbeing
Hair, skin and nail strength
Energy production
Metabolic rate
BN Chews are your complete chewable multivitamins to support your
Immune system
Energy production
Healthy blood cell production
Cardiovascular health
Key ingredients in our tasty chewable multivitamin tablet will support healthy bones, encourage support of the nervous system and also support general mental well-being.
BN Chews are available in 3 great flavours, our original Orange, Zesty Vanilla Lime, and Iron Free Wild Berry Chews.
When taken as directed, the two-a-day dose for adults will encourage healthy hair, skin and nails and support the metabolism of carbohydrates and proteins.
BN Chews will also maintain healthy blood glucose and muscle function.
Chewable multivitamins are built for the effective delivery of vitamins and minerals in a soluble, tasty tablet you'll enjoy having as a part of your daily healthy lifestyle regime.
Get the most out of every day with BN Chews Multivitamins, made with high-grade forms of key nutrients to support your general health and well-being - Every Day!
---
With the use of the best chewable multivitamin, you will:
Support metabolic rate
Maintain healthy cardiovascular system function
Support healthy immune system function
Support wound healing
Hair and Nail Thickness
Balancing when life moves at such a hectic pace can be challenging.
Each tablet contains:
Betacarotene
2.3mg
Retinol acetate (Vitamin A 375 mcg RE)
431.25mcg
Ascorbic acid (Vitamin C)
60mg
Colecalciferol (Vitamin D3 500IU)
12.5mcg
d-alpha-Tocopheryl acid succinate (Vitamin E 151U)
12.4mg
Thiamine nitrate (Vitamin B1)
5mg
Riboflavin (Vitamin B2)
5mg
Calcium pantothenate
Eq. Pantothenic acid (Vit B5)
5mg
4.6mg
Pyridoxine hydrochloride
Equiv. Pyridoxine (Vit B6)
790mcg
650mcg
Mecobalamin (Co-Methylcobalamin) (Vitamin B12)
125mcg
Cyanocobalamin (Vit B12)
125mcg
Nicotinamide (Vitamin B3)
25mg
Calcium (as calcium citrate)
Calcium (as calcium carbonate)
Total Calcium
50mg
250mg
300.42mg
Folic Acid
250mcg
Inositol
10mg
Iron (as ferrous fumarate)
9mg
Magnesium (as heavy magnesium oxide)
52.5mg
Iodine (as potassium iodide)
75mcg
Copper (as cupric citrate Hemipentahydrate)
375mcg
Zinc (as zinc amino acid chelate)
7.5mg
Selenium (as selenomethionine)
15mcg
Manganese (as manganese amino acid chelate)
1mg
Chromium (as chromic chloride hexahydrate)
35mcg
Chromium (as chromium picolinate)
25mcg
Total Chromium
60mcg
Choline bitartrate
2.5mg
Molybdenum (as molybdenum trioxide)
37.5mcg
Biotin
150mcg
Take 2 BN Chews per day with meals, or as directed by your healthcare professional. Always read the label and follow the directions for use.
** Allergens: Contains sugars, soya bean products, sulfites, and artificial sweeteners.**
If symptoms persist, talk to your health professional.
The recommended daily amount of Vitamin A from all sources is 700 mcg retinol equivalents for women and 900 mcg for men. When taken in excess of 3000 mcg retinol equivalents Vitamin A can cause birth defects.
If you are pregnant or considering becoming pregnant do not take Vitamin A supplements without consulting your doctor or pharmacist.
Vitamin and mineral supplements should not replace a balanced diet.
Not for the treatment of iron deficiency conditions.
Contains selenium which is toxic in high doses. A daily dose of 150 mcg for adults of selenium from dietary supplements should not be exceeded.
Contains sucralose.
Do not use if seal is broken or missing.
Store below 25 C.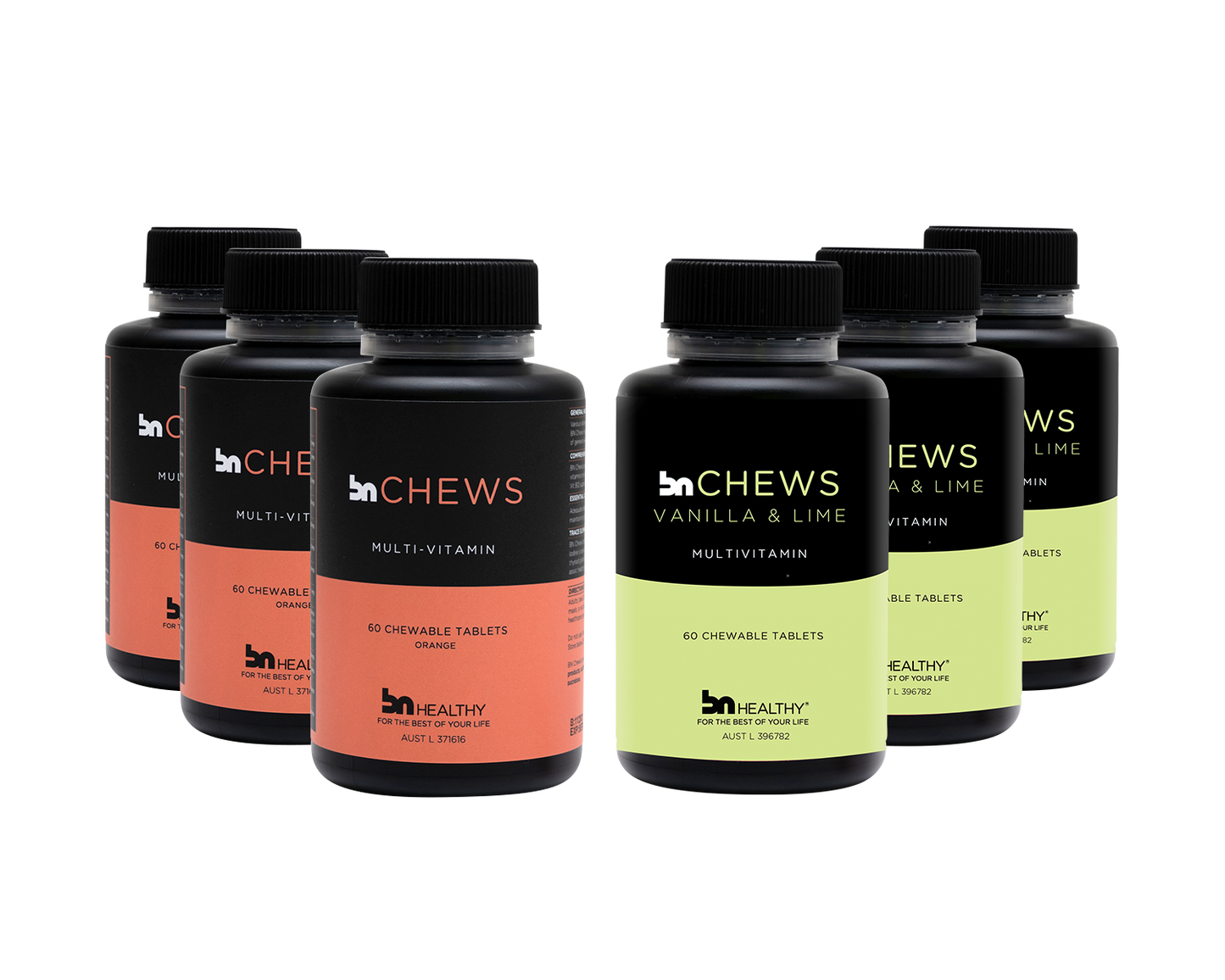 Immune System Support
We've bottled up sunshine with Vitamin D3 to support normal immune function.
Healthy Blood Cell Support
Iron supports healthy red blood cell production and blood health to help support healthy iron levels for oxygen transport in the body.
Energy & Immunity
Vitamin B12 is known for its impacts on supporting energy production, immune system health and the production of healthy blood cells.
Bone Health
Your body needs calcium for strong bones and muscle contraction, which is part of healthy digestion.
Hair, Skin & Nails Support
Biotin
Key ingredients are married together to promote healthy hair, skin and nails and improve nail and hair thickness.
Frequently Asked Questions
Our Qualified Nutritionists are here to help you make the best choice when it comes to you and your health.
Yes, taking BN Chews is a complete chewable multivitamin. The tastiest way of reducing the risk of micronutrient deficiencies is when you are not meeting your needs with food alone.
BN Chews are not only tasty - they are highly soluble, so you can rely on delivery and efficacy if the function of the digestive system is impacted.
BN Chews are a flavoured chewable multivitamin form, while BN Caps are tasteless, calcium-free capsules.
Try crushing your BN Chews into powder and putting them into your meals or drink. Or you can opt for our BN Caps, an easy-to-swallow capsule.