Botanika Vegan Porridge - Vanilla Dream
BENEFITS
Keeps you feeling satisfied and energised for longer.
SOLUTION FOR
Easy nutritious breakfast, or snack.
CREAMY DELICIOUS FLAVOUR
Taste like vanilla cake batter.
Botanika Vegan Porridge Vanilla Dreams is made from organic rolled oats packed with gut-loving probiotics and digestive enzymes.
This nourishing blend will support your gut health and and keep you full until your next meal. The creamy and delicious vanilla flavour is delicious, and the porridge is packed with plant protein. It's the the ideal way to start your day.
The instant mixing formula makes for an easy and efficient way to consume the nutrients you need to stay full and energised for longer. Botanika Blends, created by Botanika Brekky, provides easy access and health benefits to those in need of a nutritious breakfast or snack on the go.
Deliciously creamy wholesome, and conveniently ready in just 2 minutes, what more could you ask for?
Organic Whole Grain Rolled Oats, Organic Pea Protein Isolate, Natural Flavour, Coconut Milk Powder, Chia Seeds, Pepitas, Sunflower Seeds, Organic Hulled Hemp Seeds, Organic Brown Rice Protein Isolate, Probiotic Culture (Bacillus Coagulans), Inulin, Acacia Fibre, Natural Marine Minerals (Calcium, Magnesium), L-Glutamine, BCAAs (Leucine, Isoleucine, Valine, Emulsifier (Sunflower Lecithin)), Guar Gum, Natural Sweetener (Stevia), Organic Vanilla Bean Powder, Digestive Enzymes (Protease, Amylase, Cellulase, Lactase, Lipase)
Made In Australia From Less Than 10% Australian Ingredients
Nutrition Information
Servings per packet
Serving size: 60g






Average quantity per serving
Average quantity per 100g
Energy
985kJ (235 cal)
1640kJ (392 cal)
Protein
16.5g
27.5g
Fat, total
- Saturated
6.9g
1.7g
11.5g
2.8g
Carbohydrate
- Sugars
- Lactose
- Galactose
25.6g
1.1g
0g
0g
42.7g
1.9g
0g
0g
Dietary Fibre
5.6g
9.3g
Sodium
138mg
230mg
Probiotics
9 Billion CFU
15 Billion CFU
Botanika Blends Vanilla Dreams flavour probiotic porridge is quick and easy to make.
Simply mix 60g with 150ml of boiling water and sit for 2 minutes before enjoying. Top with fresh fruits and seeds or your favourite toppings.
Close the package immediately after use.
Store in a cool, dry place away from direct sunlight.
This product is not a sole source of nutrition and should be consumed with a healthy, nutritious diet and appropriate physical training or exercise program.
Not suitable for children under the age of 15 or pregnant women: should only be used under medical or dietetic supervision.
Allergen Statement
Contains Gluten
Manufactured on equipment that also produces products containing dairy, egg, soy, tree nuts, lupin, fish and peanuts.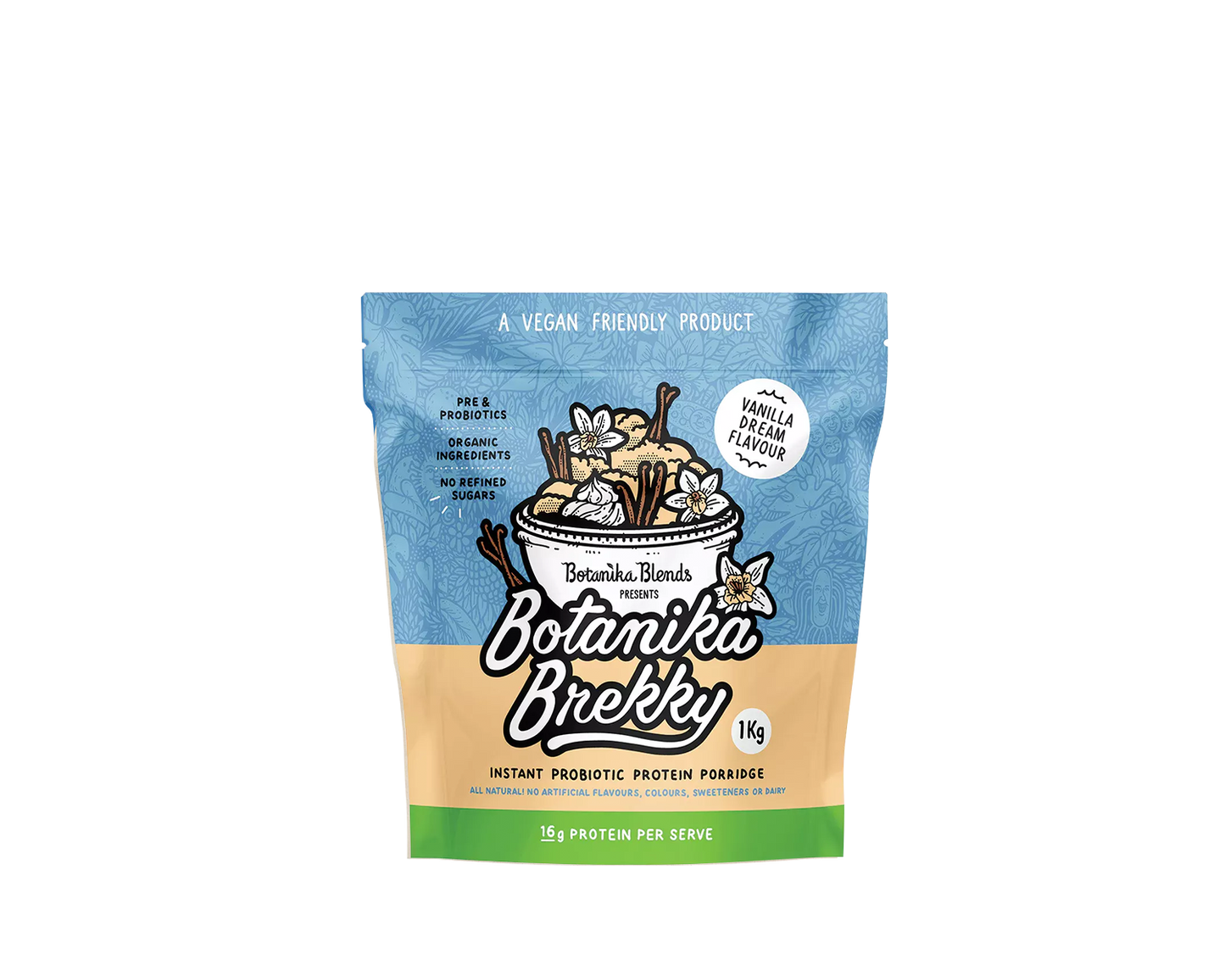 Carefully formulated to target your concerns.
Promotes Healthy Gut Bacteria
Fibre is essential to maintain a healthy digestive system. Vegan porridge contains fibre, which adds bulk to stools, preventing constipation and promoting regularity.
Increases Feeling of Fullness
It contains whole grains high in fibre, which keeps you full faster. This helps prevent overeating.
Enhances Energy Levels
A bowl of protein porridge breaks down to become energy slowly absorbed by your body that's long-lasting.
High-Quality and Natural Ingredients
Consistent with key ingredients such as organic rolled oats, cacao, protein, probiotics, digestive enzymes and minerals to help start and fuel your day correctly.
Frequently Asked Questions
Our Qualified Nutritionists are here to help you make the best choice when it comes to you and your health.
Each Botanika Brekky Vanilla Dream Porridge offers 16.5 grams of high-quality protein with amino acids ensuring your muscle recovery is maximised.
You can find many porridge recipes on our recipe page here - that you can create in a few minutes using less than 6 ingredients. It's perfect for a quick, easy, healthy breakfast for those busy mornings.
Eating protein porridge in the morning will help you feel fuller and more satisfied throughout the day. Protein porridge is also an excellent technique to replenish your body's glycogen stores while mending muscle tissue after exercising.
The high fibre content and prebiotic properties of porridge may help your health in more ways than one. Making porridge a regular component of your meals can help your gut health thrive, simplify bowel movements, and keep you fuller for longer.
Protein porridge can help support a balanced weight loss diet as it enhances feelings of fullness, allowing you to eat less frequently and squash your cravings - which will add up to reduce weight in the long run.