BN B12 - Vitamin B12 Melts
SUPPORTS ENERGY PRODUCTION
Vitamin B12 helps metabolise and convert food to energy
NERVOUS SYSTEM HEALTH
Aids production of neurotransmitters
REMEMBER
Always read the label and use only as directed
FREE shipping Australia wide on orders over $80.
Same-day shipping for all orders placed before 2pm on weekdays.
Our fast-dissolving pleasant-tasting strawberry-flavoured B12 melts dissolve under your tongue. It's a great and simple way to absorb additional B12 when you can't reach your needs with food alone - delivering 1000 mcg of Mecobalamin Vitamin B12 in each tablet.
Vitamin B12 plays an essential role in the healthy metabolism and synthesis of healthy red blood cells, assists protein metabolism in the body and supports nervous system function.
BN B12 melts use Mecobalamin, which is especially important as we age, or our digestive system may be less efficient at absorbing this important nutrient.

Try BN B12 Melts: great-tasting sublingual melts for maintaining nervous system function and energy production.

Each BN B12 Melt comes in a convenient, 1000mcg soluble dose of activated Mecobalamin and supports healthy blood cell production. It helps prevent dietary Vitamin B12 deficiency.
Start feeling great again - order your BN B12 Melts now.
Dietary supplements can only be of assistance if dietary intake is inadequate.
Each BN B12 melt contains 1000 Micrograms of Me-cobalamin (co-methylcobalamin) Vitamin B12.
Take no more than 1 daily, or as recommended by your healthcare professional. Always read the label and follow the directions for use.
Allergens: Contains wheat and sulfites.
Free from peanuts, tree nuts, lactose, eggs, sesame, fish, shellfish and soy.
Recommended for supporting dietary inadequacy, only take as needed.
Helps to prevent dietary B12 deficiency when used under guidance from your health care professional.
Vitamins and minerals can only be of assistance if dietary intake is inadequate.
Do not use if tamper-evident seal is missing, torn or broken.
Store below 25C.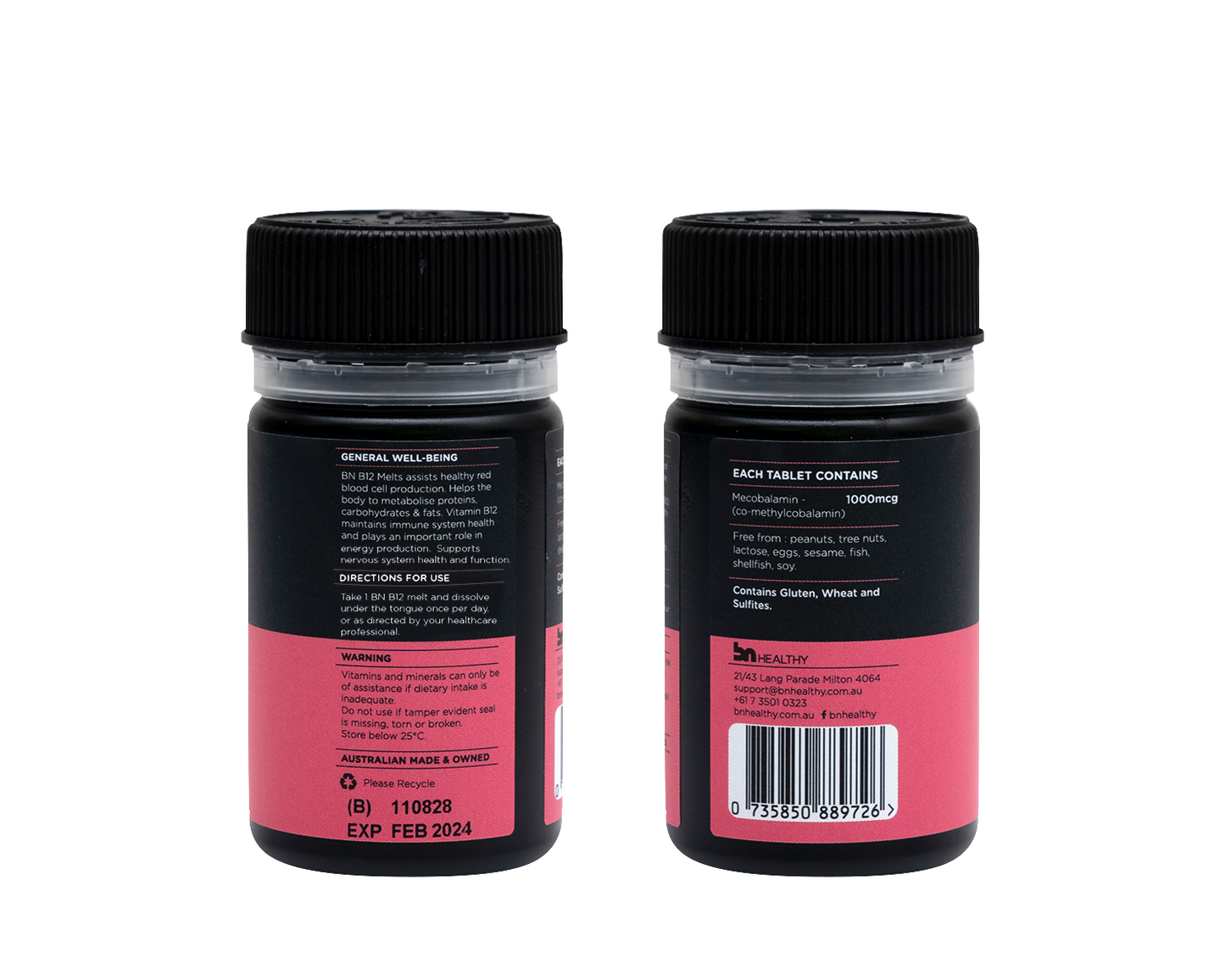 Healthy Red Blood Cell Production
The formation of healthy red blood cells is dependent on Vitamin B12.
Support Energy Production
B12 supports protein synthesis in the body and aids the metabolism of carbohydrates.
Supports Nervous System Health
Vitamin B12 is required for the support healthy function of the brain and nervous system.
Metabolism of Carbohydrates
Vitamin B12 helps the body metabolise protein and carbohydrates.
Helps Prevent Dietary B12 Deficiency
BN B12 absorbs directly through the mucous membranes under the tongue.
Meeting your needs in one tiny but tasty strawberry-flavoured melt.
Frequently Asked Questions
Our Qualified Nutritionists are here to help you make the best choice when it comes to you and your health.
BN B12 is essential in promoting healthy red blood cells. Therefore, adequate B12 is important to support blood health and synthesis of healthy neurotransmitters and may support nervous system health.
B12 is an essential vitamin for healthy nervous system function, red blood cell formation, and fats, proteins and carbohydrates metabolism.
BN B12 delivery system is efficient, as it dissolves in the mouth, making the vitamin available for absorption before reaching the stomach.
By taking ONE BN B12 daily, you'll be well on your way to supporting your dietary needs.
Since B12 is a water-soluble vitamin, it's generally considered safe, even at high doses. But you should follow the directions or your healthcare professional advice on the label.