PSA BIO Plant Protein
SOLUTION FOR
Boosting muscle retention, repair and growth.
SMOOTH & DELICIOUS FLAVOURS
Chocolate Hazelnut
Vanilla Cinnamon
Forget about plant proteins that are sandy, grainy, or gritty. PSA Bio Plant Protein is a cutting-edge GMO-Free whole grain brown rice powder with all-natural ingredients to deliver a flavour experience that is second to none.
Containing all 9 essential amino acids, Bio Pro is a complete protein (90% protein per serve) and is perfect for anyone sensitive to lactose and gluten.
Crafted from Certified Organic, GMO-free whole grain brown rice, Bio Pro is a true isolate for anyone wanting a non-dairy source of protein, low fat and low-carb, high-protein source.
Available in 2 delicious flavours:
Vanilla/Cinnamon
This flavour of the Vanilla Cinnamon Protein Powder is delicate, pleasant, and silky smooth, with fragrant, sweet notes of vanilla and cinnamon from real vanilla bean and cinnamon - excellent in your morning smoothie or post-workout shake.
Chocolate/Hazelnut
With beautifully rich tones of chocolate and hazelnut, this protein has a complete flavour that will satisfy your chocolate cravings throughout the day and keep you feeling full between meals!
Its silky texture makes it a pure and ideal protein for cooking, smoothies and shakes. It's also great for post-workout recovery because it won't make you feel bloated or heavy.
The brown rice used in Bio Pro is obtained from certified organic farms worldwide, with each batch checked for heavy metals and quality ensured.
We doubt you'll find a more delectable plant protein than this.
Organic Brown Rice Protein Isolate, Natural Flavour, Ground Cinnamon (<1%), Natural Sweetener (Stevia), Vanilla Bean Powder (<1%).
Nutrition Information
Servings per package:33
Serving size: 30g






Average quantity per serving
Average quantity per 100g
Energy
469kJ (112 cal)
1560kJ (374 cal)
Protein
27.0g
90.0g
Fat, total
- Saturated
0.0g
0.0g
0.1g
0.1g
Carbohydrate
- Sugars
- Lactose
- Galactose
0.6g
0.0g


0.0g




0.0g



2.0g
0.0g


0.0g




0.0g



Gluten
0g
0g
Dietary Fibre
0g
0g
Sodium
0.3mg
1mg
Essential Amino Acids
Servings per package:33
Serving size: 30g






Average quantity per serving
Average quantity per 100g
Lysine
1.35g
4.50g
Methionine
0.62g
2.07g
Phenylalanine
1.18g
3.94g
Threonine
1.28g
4.27g
Isoleucine
1.57g
5.24g
Valine
1.62g
5.41g
Histidine
0.60g
2.01g
Non-Essential Amino Acids
Servings per package:33
Serving size: 30g






Average quantity per serving
Average quantity per 100g
Alanine
1.32g
4.41g
Arginine
1.84g
6.13g
Aspartic Acid
2.46g
8.19g
Cysteine
0.65g
2.16g
Glycine
0.85g
15.48g
Glutamic Acid (Glutamine)
4.64g
15.48g
Proline
1.65g
5.49g
Serine
1.33g
4.42g
Tyrosine
1.11g
3.69g
Mix, shake or blend 30g (3 heaped tablespoons) of the Bio Plant Protein with 200ml of water, milk, or your favourite beverage and enjoy!
Formulated supplementary sports food.
This product is not a sole source of nutrition and should be consumed with a healthy nutritious diet and appropriate physical training or exercise program.
Not suitable for children under 15 years of age or pregnant women: should only be used under medical or dietetic supervision.
Allergen Statement
Manufactured on equipment that also produces products containing Milk, Soy, Egg, Tree Nuts, Sesame, Lupin and Peanuts. A strict Food Quality System is maintained, independently audited and certified by HACCP, SQF and SAFE FOOD. Many processes and procedures (QCP, CCP) are in place to prevent cross-contamination occurring.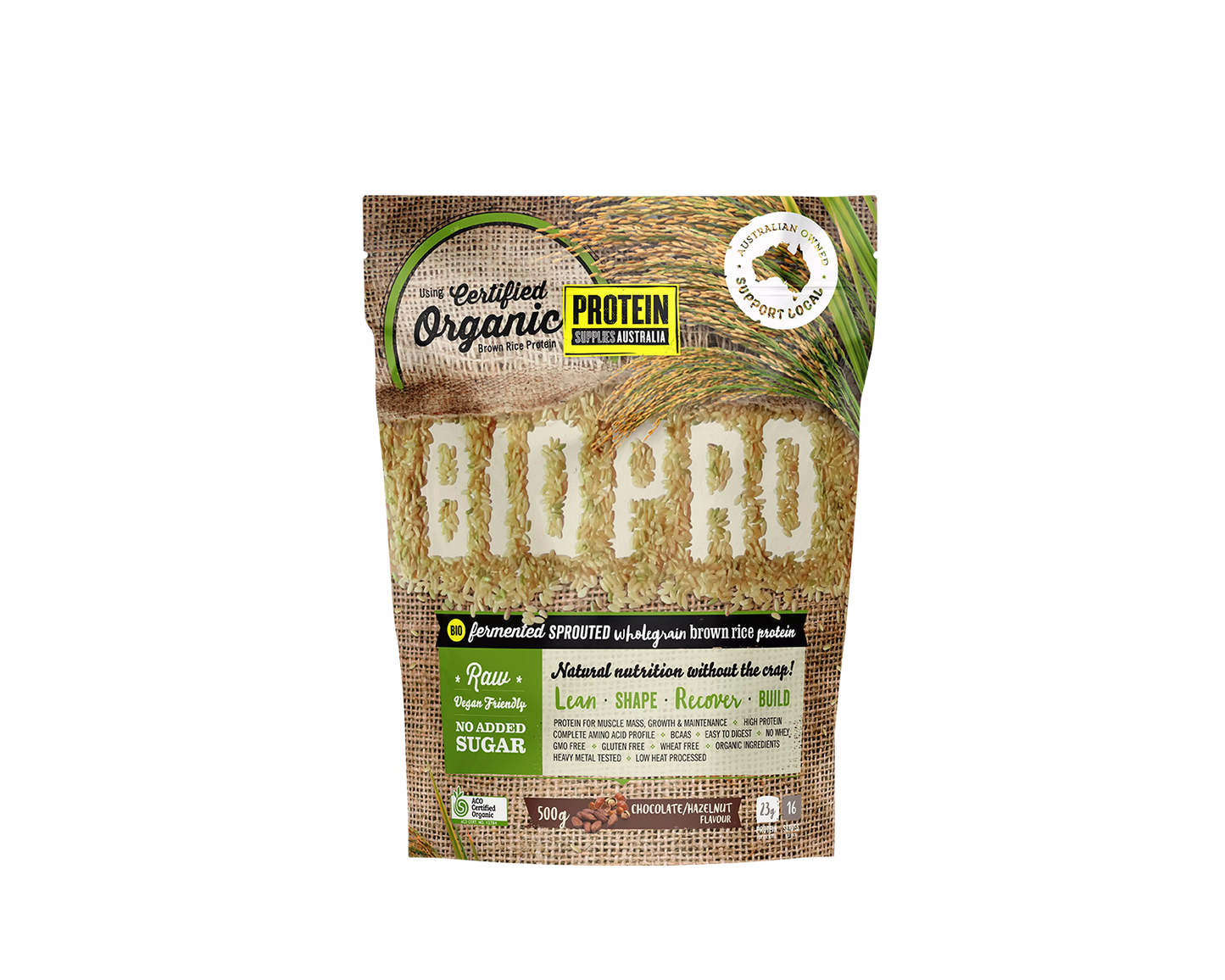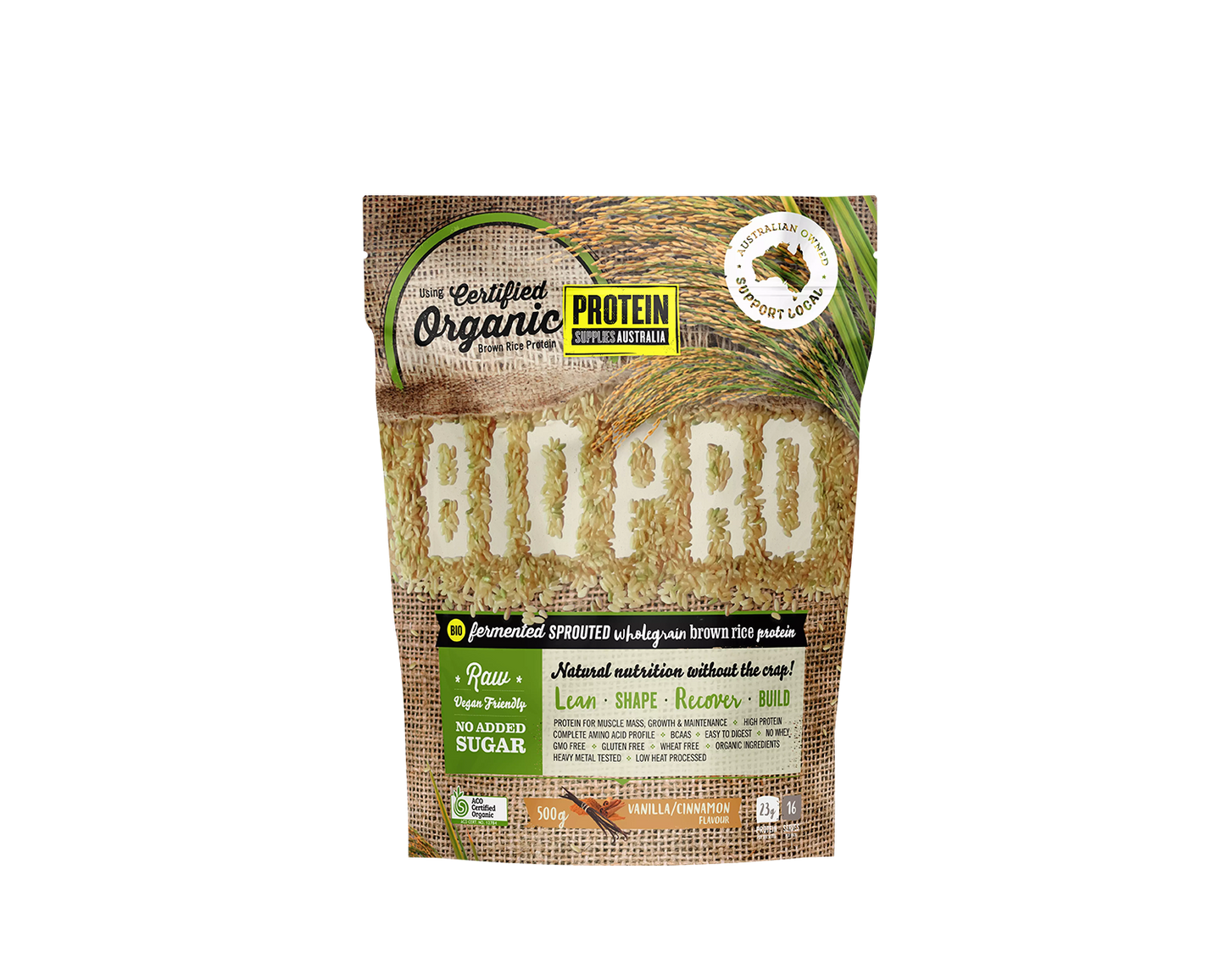 Carefully formulated to target your concerns.
Easily Digested
Compared to whey protein powders, plant protein powder is far easier to break down, metabolise, and absorb into the body.
It Can Keep You Fuller for Longer
It contains soluble and insoluble fibre, which contributes to a healthy digestive system and keeps you full till your next meal.
Keeps Your Gut Regulated and Healthy
Organic Vegan Protein powders are excellent for providing the protein you need in an easily digested form which is also easy on the planet.
With naturally occurring fibre, plant proteins are great if you want to reduce inflammation while cultivating a healthy gut.
Enhances Muscle Growth and Strength
PSA Bio Plant Protein contains over 20g of protein per 30g scoop, fuelling muscle protein synthesis to improve muscular growth, retention and strength and, most importantly - boost your metabolism over the long term.
This is particularly important in the rapid weight loss phase to ensure you look after your metabolic rate by retaining as much muscle as possible in the fat loss process.
Frequently Asked Questions
Our Qualified Nutritionists are here to help you make the best choice when it comes to you and your health.
Vegan protein powders offer an earth-friendly, zero-cruelty solution using only the finest pure ingredients.
Vegan protein - PSA BIO Plant Protein contains bio-fermented sprouted whole-grain brown rice protein, unlike other plant-based smoothies. Containing all 9 essential amino acids, Bio Pro is a complete protein (90% protein p/s), excellent for those intolerant to lactose and gluten.
There are an array of incredible benefits to using vegan protein powder, such as
Helps curb your appetite
Increases muscle growth and strength
Promotes skin health
Supports healthy digestion
More beneficial for the environment and being harmless to animals
PSA BIO Plant Protein is made with superior GMO-Free ingredients that combine smoothly in water or milk for a delightful taste and texture. The vegan selection provides a more natural taste and smooth surface. When combined with nut milk, Bio Pro Plant Protein Powder can give you an even creamier texture if that's what you're after.
Vegan protein powder isn't always superior to animal-derived protein powders like whey. However, other studies have indicated that when paired with exercise, some vegan protein powders, such as brown rice, have similar outcomes to whey protein.
Delicious Creamy Flavours
Gluten-Free
Vegan-Friendly
Low Fat, No Added Sugar
Easy to digest
Complete Protein
Rich in BCAAs